[et_pb_section][et_pb_row][et_pb_column][et_pb_text]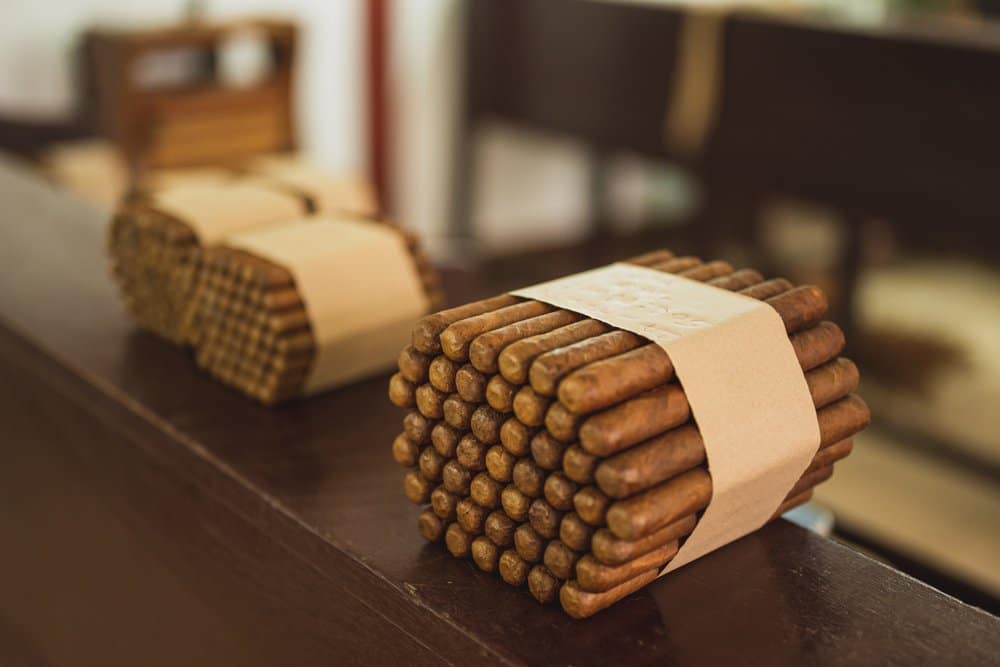 Have you been in a situation wherein someone offered another person a cigar, and that person took it, saying he will put it aside for a few months first? It might sound insulting to the one who handed the cigar. But have you heard about aging cigars and why others find it necessary?
Those who spent years mastering their trade of blending tobacco to achieve the desired flavor might find the said scenario insulting. However, some people prefer to age their cigars for different reasons.
Aging Cigars: Is It Necessary to Age Your Cigars?
Experienced cigar smokers usually give an additional aging time to their cigars. Some are out of a habit, while others are because of a particular reason. These reasons can be the following:
To improve the flavor.
Since most cigar smokers have a large collection of cigars, it will not be possible for them to finish all their cigars fast. As a result, their cigars age accordingly.
The Advantages of Letting Your Cigars Age
Allowing your cigars to age for a particular period after taking them home from the shop holds several benefits.
Some cigar shops use humidors that are not properly adjusted. So if you want aging cigars, you might want to consider giving your cigars a few days to settle before using them.
If you are new to buying cigars, a humidor is an airtight container that is used to keep the moisture of the tobacco. You can get one of good quality at Premium Cigars of Georgia.
Some cigars also have what experts call a "young" taste. So letting your cigars sit for a week will benefit your smoking experience.
Aging Cigars: What You Need to Know
Here are the things you need to know about aging cigars.
Tobaccos Go Through an Aging Process
Before you worry about letting your cigars hibernate for several days, know that the tobaccos in your cigars have already aged before they were even rolled. The duration of the aging process is not the same for every tobacco. However, it may take an average of three years for the whole process to materialize – from harvesting the tobacco until the finished products are sold in stores.
Some brand owners even wait up to seven years or more. And it is the master blender that determines the aging time. The aroma, flavor, body, and strength are the things put into consideration during the process.
Tobaccos Can Age in Barrels
After the initial fermentation, the tobaccos are stocked in bales to continue the process at a slower pace. This will allow the resins and oils that are present in the leaves to mature. But there are cigar makers who prefer putting their tobaccos in barrels.
These barrels are usually charred or toasted. The interiors of these barrels, depending on what type is used, are said to have different effects on the flavor. The charcoal inside the barrel also eliminates the ammonia in the tobacco leaves.
Age Your Cigars Using a Humidor
Aging cigars at home is possible with a humidor. However, it requires more commitment and patience. So if you want to use your cigars right away, this process of aging your cigars is not for you.
Although you can put your cigars in a humidor and set them aside for a few days, home aging requires more than that. It will take months for home aging to be effective. Some even wait for years.
A properly maintained humidor, with good airflow and humidity, will have the best effect on aging cigars. It is recommended to light two of your cigars before starting the process of home aging so you will know how they taste.
Older Doesn't Mean Better
The strength and flavor of cigars will indeed evolve with time. But the older the cigar does not necessarily mean it tastes better.
Most cigar smokers don't necessarily wait for ten years to age their cigars. Giving your cigars a year or two will already enhance the flavor. Today's cigars are already made of tobaccos that have gone through better agricultural technology and are aged under better conditions.
Enjoy Aging Cigars and More at Our Cigar Shop
Develop friendship with a stranger through a handmade cigar.
At Premium Cigars of Georgia, we believe that transforming someone you do not know into a friend can be done easily through a mutual appreciation of cigars. Visit our shop, lounge with us, and experience this philosophy first hand.
Looking for a relaxed atmosphere to enjoy your cigars? Contact us and take a look at the wide selection of cigars that we offer. We also have a variety of accessories that we can be your one-stop shop for all of your premium cigar lifestyle needs.
Indulge in aging cigars and stop by our cigar shop today!
[/et_pb_text][/et_pb_column][/et_pb_row][/et_pb_section]